The plan for my Extra Life campaign is coming together quite nicely. Got two back-to-back 12 hour streams planned for the weekend of October 28th and 29th, and all but two slots (and guests) have been locked in! That part of things will be in update #3, but for this one, I'm pumped to show off the final raffle item that I finished a couple days ago!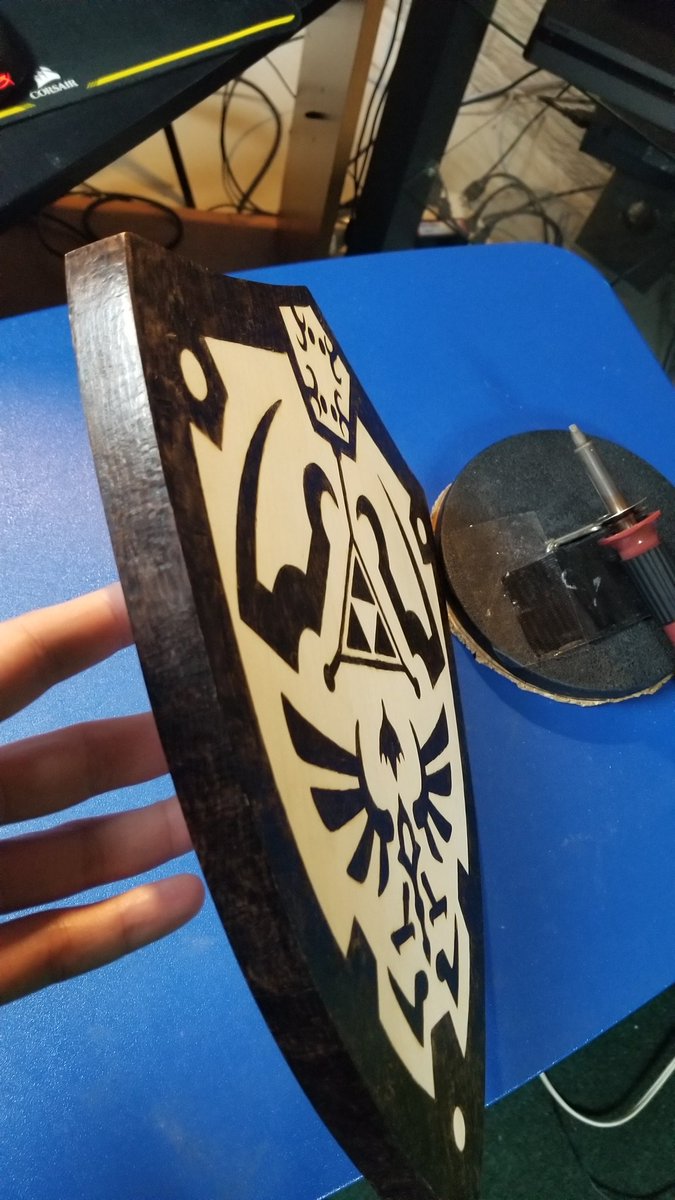 This Hylian shield woodburning is 11.5" wide and 13.75" tall, and would make an excellent piece to hang up on a video gamer's wall. And if you want to enter to win this thing, all you need to do is head here, https://www.extra-life.org/participant/mrwartburg, and enter a $15.00 donation. And I also threw together a few other items too, and in case you didn't see my last journal here they are:

So to recap, here's the total rundown of the items and the associated donation levels:
1. Destiny 2 "Coldheart" blueprint hanging - $5.00 (1 donation of $5.00 = 1 entry)
2. Pokemon Pyrography (Charmander Evolutions) - $5.01 per 1 entry
3. Reinhardt 6" Funko Pop - $10.00 per 1 entry
4. D. Va 6" Funko Pop - $10.01 per 1 entry
5. Hylian Shield Pyrography - $15.00 per 1 entry
6. Agents of S.H.I.E.L.D (9" diameter) string art by @ayeeitslyss - $15.01 per 1 entry
And if all that isn't enough, my co-streamer Joey and I are doing two stretch goals. The first is at $2,0000, and if we break that Joey's getting a tattoo. At $2,500, I'm shaving my beard for the first time in nearly 6 years! 
So get on it people, donate to a great cause, maybe win some cool stuff, and make me lop off my beard!